About Samsung Gear Fit 2 Pro
Showing slide {CURRENT_SLIDE} of {TOTAL_SLIDES}
Take the plunge.

Go from swimming laps to jumping in the shower. Gear Fit2 Pro is water resistant up to 5 ATM. The Speedo app developed for Gear Fit2 Pro tracks your stats and presents them in easy-to-read summaries.

Make your moves count.

Whether they're tennis, basketball, or even dance moves, Gear Fit2 Pro automatically logs the activity. It also measures your heart rate continuously to help you make better fitness decisions.

Choose your style.

Go all black for a sleek, understated look or kick things up a notch with a splash of red. Both styles are made to fit comfortably with a clasp that ensures the Gear Fit2 Pro stays securely on.

Get apps and watch faces.

With more than 3,000 apps and watch faces to choose from, including Spotify, you can customize your Gear Fit2 Pro to make it work for you.
eBay has provided more information about this product above and is not affiliated with or endorsed by Samsung.
Compare Similar Models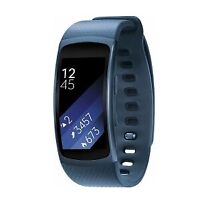 Samsung Gear Fit2
Compatibility
iOS 9, Android 4.4
Operating System
Proprietary OS
Showing slide {CURRENT_SLIDE} of {TOTAL_SLIDES}
Samsung Gear Fit

Compatibility

Galaxy Devices Only

Samsung Gear Fit2 Pro

Display

1.5-inch touchscreen

Compatibility

iOS 9, Android 4.4

Samsung Gear Sport

Compatibility

iOS 9, Android 4.4
Top 5 High ratings
Top 2 Low ratings
Good Watch Ok Battery Life

The watch is good, but if you use all the features including constant heart rate monitoring and bluetooth plan to recharge daily

Verified purchase: Yes

Fit2 pro better than the Fit2

Lost my Samsung Fit2. The Fit2 pro has partially different firmware, e.g., the # of floors is vastly different between the 2 devices. The Fit2 had a strap that kept coming undo, hence my loss. The pro strap is more secure.

Verified purchase: Yes

Good little watch

Not a full smart watch, but an awesome fitness band with enough features to eliminate the need for a smarte watch while providing the right health & fitness info. Big plus are the spotify and Bluetooth connectivity.

Verified purchase: Yes

Love the Samsung gear fit2 pro

I love my Samsung gear fit2 pro. I can track how I sleep, my calories I burn throughout the day and even while I sleep. I can listen to music. Receive notifications of calls and messages and other apps that I set up. I love it I can really track how active I am all day long. I don't miss my step count now. I think it is one of the best purchases I've done in a while. I can change the display watch faces. I've even downloaded a free Black ops one. I'm telling you I love this Samsung gear fit2 pro.

Verified purchase: Yes

Gets it done.

I like it, and it is fully featured but it doesn't track the calories of heavy workouts as well as I would like. I don't think it understands the intensity as well as it should. I often do high intensity interval workouts.

Verified purchase: Yes